Pershore Cadets take to the skies
Posted on 2018-03-02 22:20:08
Three local Air Cadets from 233 (Pershore) Squadron part of the Air Training Corps are on cloud 9 after recently taking to the sky in an RAF training aircraft. The three cadets, Cadet Serra Caunt (14), Cadet Jay Cosnett (14), & Cadet Megan Heesom (13) flew in an RAF Grob Tutor T1 aircraft alongside an RAF Instructor, where they got to take control of the aircraft during their training flight.
Cadet Serra Caunt said "This was an amazing experience, I really enjoyed it and I'm looking forward to more flying in the future with my Squadron".
Air Cadets follow an Aviation training syllabus which allows them to fly in many different RAF Aircraft with the end goal of gaining their Gold Wings and being able to fly solo. Many Cadets can achieve his before they are able to drive a car on their own!
Officer Commanding Flight Lieutenant Rebecca Pritchett said; "This is an example of the many successes of our cadets and we're all looking forward to further achievements."
Flying is one of the many activities air cadets take part in, in supervised and safe conditions. Other activities include Shooting, Adventure Training, Fieldcraft & Sport. Anyone between 12-18 years old who wishes to join should email 233@aircadets.org or visit www.233aircadets.org for details.
tell a friend :: comments 0
---
9th November 2014 - Remembrance Parade
Posted on 2015-02-23 21:46:37
The Remembrance Parade took place in Pershore town centre on Sunday 9th November. The Parade was led by the Band of the West Midlands Fire Service and included members of the Royal British Legion and Womens Section and Royal Navy Association.
The Squadron were tremendously well represented, joining together with Sea Cadets, Army Cadets, Scouts, Cubs, Guides, Brownies and St Johns Ambulance. The salute was taken outside the Town Hall under the Town Clock which is a memorial to those who died during the Second World War.
tell a friend :: comments 0
---
3rd November 2014 - Activity First Aid
Posted on 2015-02-12 22:23:42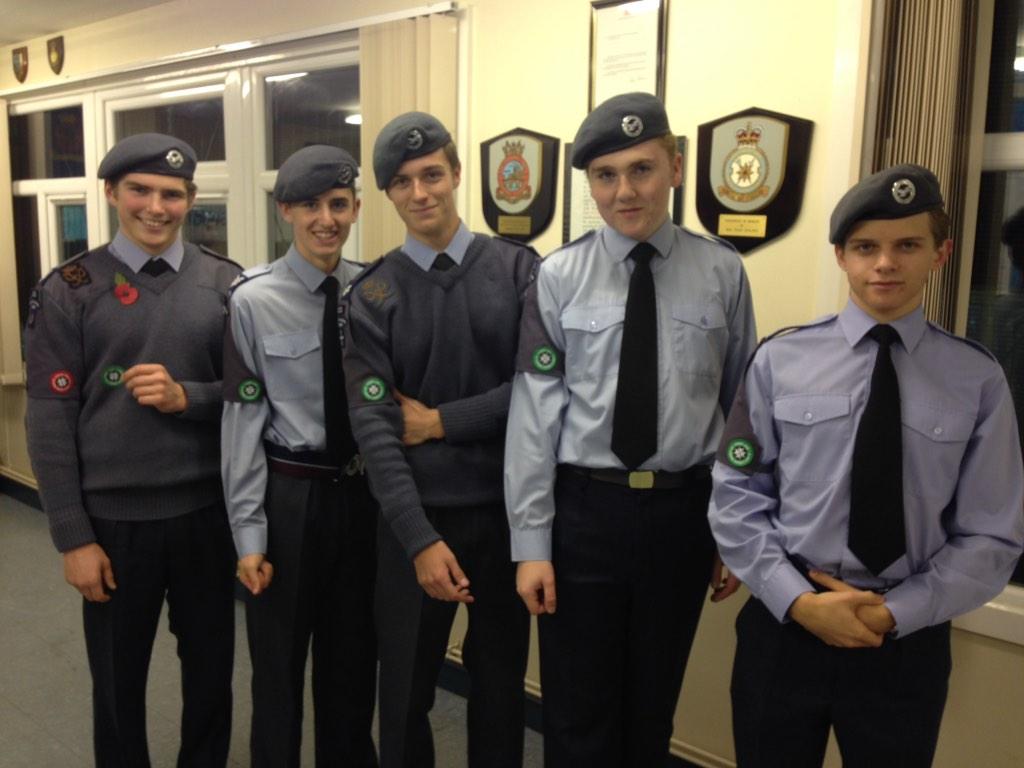 Five Cadets from the Sqadron worked hard over the course of 2 days to gain their 'Activity First Aid' qualification. The course covers how to deal with conditions specific to leisure and sporting activities and the outdoors.
Course content;
Communication and Casualty Care
Looking After Yourself
Emergencies in Public
Extremes Of Temperature
Recognition and Treatment of Low Blood Sugar
Role of the First Aider in a Group Setting
Resuscitation
Choking
Treatment of an UnConscious Casualty
Bleeding
Fainting, Bites and Stings, Sprains and Strains
Asthma
Head Injuries, Chest Pain and Shock
Recognition and Treatment for Meningitis, Poisons, Seizure and Stroke
Bone, Muscle and Joint Injuries
tell a friend :: comments 0
---
2nd November 2014 - Inter Wing SNR Girls Netball
Posted on 2015-02-12 21:53:48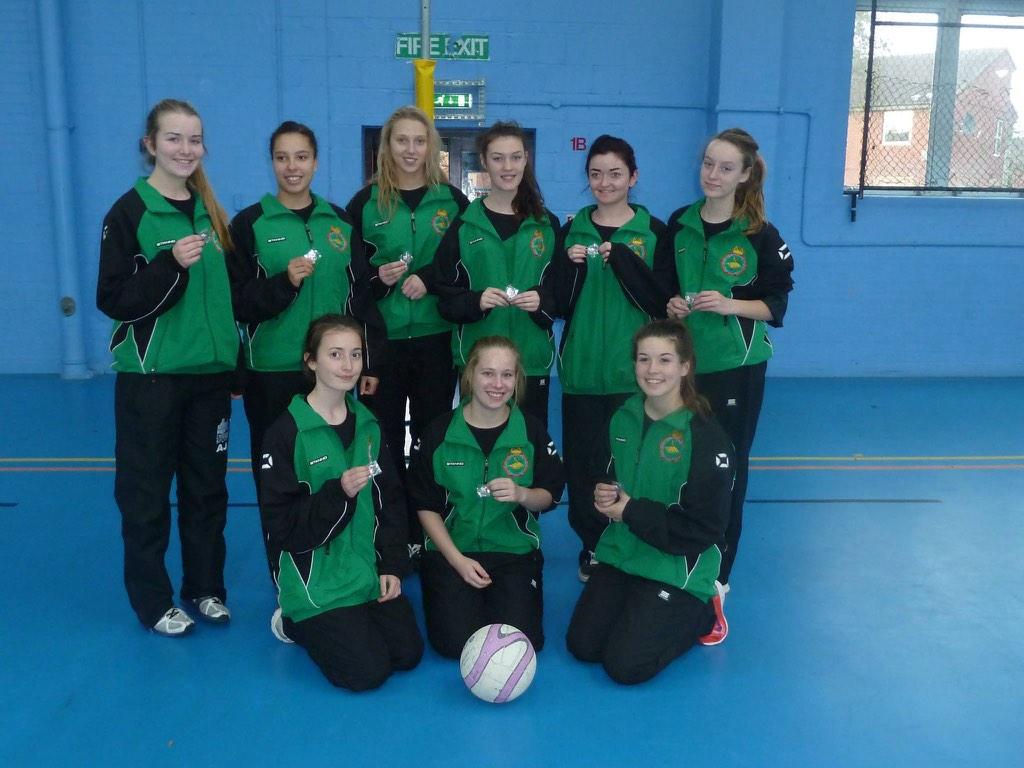 CPL Humphrey celebrated another exciting sporting achievement at the Inter Wing SNR Hockey Tournament held at RAF Cosford. The team were delighted at gaining second place and proudly show their silver medals.
tell a friend :: comments 0
---
27th October 2014 - Birmingham Airport Visit
Posted on 2014-11-13 22:24:34
The seven storey Air Traffic Control Tower at Birmingham airport stands at 34 metres tall and has won several awards for its design and construction. It cost 10 million pounds and replaced the 79 ft tall facility which had been in use since 1939 when the airport terminal opened. The new ATC tower is equipped with state of the art radar and navigation equipment and gives the controllers a better view of the airfield over taller buildings which have been built in recent years.
12 Cadets were selected to visit the tower and the views from the top were amazing. The Airports' Fire and Rescue team then gave the cadets a demontration of their new 3 million pound appliances.
tell a friend :: comments 0
---
12th October 2014 - Air Experience Flight
Posted on 2014-11-13 21:43:47
An Air Experience Flight (AEF) is a training unit of the Royal Air Force Voluntary Reserve (Training Branch) whose main purpose is to give Air Cadets an introductory flying experience. Flying takes place at one of 12 AEF's around the country, mainly at RAF stations.
8 AEF was formed in October 1958 at Cosford, later moving to Shawbury in 1960. It then returned to Cosford in 1978, moved again to Shawbury in 1979 and finally back to Cosford, where it has remained since April 1996. From 1 April 1996 it has been parented by Birmingham University Air Squadron, and are equipped with 5 civil registered, Grob Tutor 115EA Mk 1s.
Two Cadets from the squadron took to the air for their first AEF in September and enjoyed barrel rolls and loops without needing to reach for the sick bags supplied. Well done both.
tell a friend :: comments 0
---
28th September 2014 - Inter Squadron Football and Hockey Trials
Posted on 2014-11-13 21:05:36
September was a busy month for sporting activities and a minibus full of our cadets took advantage of the opportunity to try out for the Wing Senior Football and Senior Hockey teams. The event took place at RAF Cosford with 3 cadets making it through to the Wing Football team and 4 cadets to the Wing Hockey team.
tell a friend :: comments 0
---
14th September 2014 - Annual Inter-Squadron Swimming Gala
Posted on 2014-10-23 01:01:41
This years 233Pershore Swimming team met with cadets from other Squadrons within the West Mercian Wing at RAF Cosford to take place in the annual Inter-Squadron Swimming Gala. As well as an array of individual medley swimming medals they also took the trophy for both Overall Junior Girls Winners and Overall Senior Boys Winners.
Tensions rose as the overall Gala Champions were announced and no one was more delighted to hear that they had won the Gala Trophy than the Commanding Officer of the Squadron, Flight Lieutenant Pritchett.
Front row kneeling, left to right- Cdt Rochell, CdtFS Turton, Cdt Corp Humphrey. Back row standing, left to right – Cdt Grimwade-Jones, Cdt Turton, Cdt Evans, Cdt Khor, Cdt Sgt England, Cdt Bradnick, Cdt Corp Aldington, Cdt Jewitt, Cdt Careless, Cdt Ricketts.
tell a friend :: comments 0
---
16 - 23 Aug 2014 - Summer Camp RAF Linton-on-Ouse
Posted on 2014-08-30 15:02:18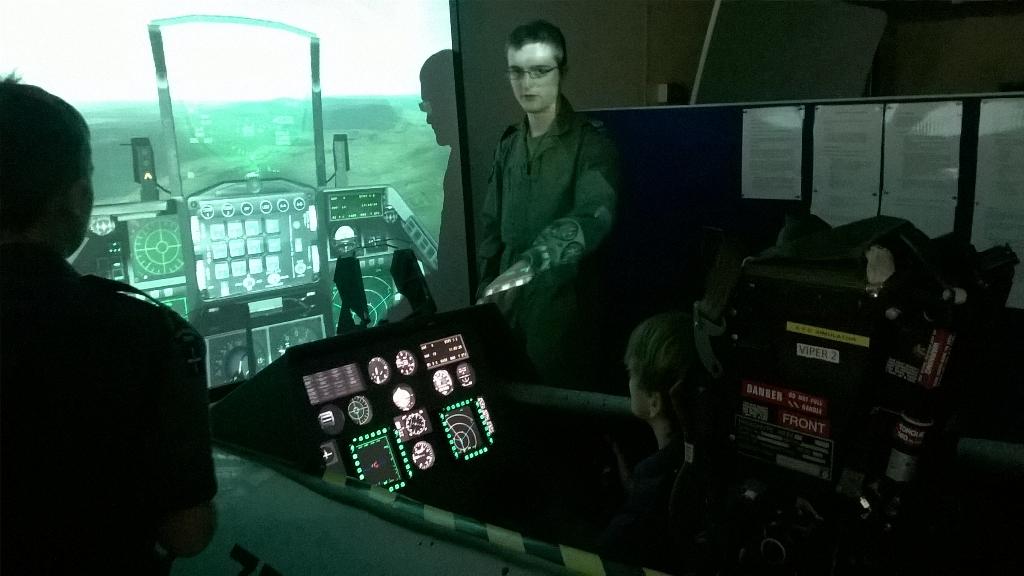 This week the Squadron had another Summer Camp opportunity this time at RAF Linton-on-Ouse, 3 staff and 5 cadets joined cadets from other Squadron for a week in the life of the RAF. This was a fantastic week, activities included flying in a F-16 flight simulator, flying in a Tucano simulator, actual flying in the Grob Tutor, visiting Air Traffic control, Survival Equipment Section and visiting the Engineering team working on the Tucano fast jets. Cadets also played sports in the Station gym, and shot the No 8 rifle and L98 rifle on the Station 25m Barack range.
One of the days involved a trip to RAF Fylingdales which is a small base on the North Yorkshire Moors and was first declared operational in 1963 as one of 3 radar sites in the Ballistic Missile Early Warning System (BMEWS). The cadets got to see inside the Radar station, the power plant there as well as the Fire Section on station.
The week also involved a trip to Adrenalin North Yorkshire, which saw cadets test themselves on the high ropes course, and also underake the Krypton Factor assualt course! Rounding of the week the cadets got to go Bowling, Go Kart Racing and finished with a Disco/party on the final evening.
tell a friend :: comments 0
---
5 - 26 Aug 2014 - Exercise Zulu Dawn - South Africa
Posted on 2014-08-30 14:47:57
Summer Camp Season gives opportunities to cadets to visit many places. This year there were camps to RAF Halton and RAF Linton-on-Ouse, the adventure training centre in Llanbedr Wales, and a 3 week expedition to South Africa. 3 of our cadets joined cadets from the rest of the Wing on this amazing opportunity to experience a completley different expedition.
The cadets got to go on safari, seeing all kind of wildlife including Elephants, they got to climb mountains higher than any in the UK, there was a visit to Rorke's Drift (the site of one of the British Army's sites of outstanding bravey and heroism) and also a trip to the beach. All three of our cadets thorougly enjoyed the trip and came back very tanned!
tell a friend :: comments 0
---